12.12 Special Promo
LATEST R&D BY SLIM DOC
ONE AND ONLY FAT BURNING TREATMENT OF ITS KIND IN MALAYSIA
FREE 1X Firm Up Ampoules Application
16
Days
23
Hours
48
Minutes
44
Seconds
Total 74346 Booked
The Most Powerful
ULTRA EM PLUS Treatment
To Burn
Superficial & Deep Fat.
Powered By
2 Advanced Tech
Total
40,000
Contractions
20,000
Superficial Fat
20,000
Deep Stimulation
Experience the new UltraEM Plus treatment which is a trademarked technology with protocols developed by our founding doctors with our dedicated Korean manufacturer.
Introducing the revolutionary UltraEM Plus treatment - the perfect solution for those wanting to tone and shape their bodies to the next level ! Using cutting-edge technology that combines Amplitude Modulated medium frequency (AMF) and Electromagnetic waves, UltraEM Plus offers both surface and deep muscle toning in just 30 minutes.
The treatment consists of a 15-minute EMS (electromagnetic wave treatment) and a 15-minute Ultra S Shape (AMF treatment), targeting both superficial and deep fat as well as muscles (including subcutaneous fat, visceral fat, superficial & deep muscle). In fact, just one session is equivalent to 40,000 sit-ups!
The best part? UltraEM Plus offers 4x the efficiency of traditional methods, making it more effective than just EMS alone. With every visit guaranteed to be effective, there's no need to worry about wasting your time or money on ineffective treatments.

UltraEM Plus targets both subcutaneous and visceral fats with the combination of AMF and RET technologies, making targeted fat reduction far superior to the traditional electrical muscle stimulation protocol.
UltraEM Plus synergically deploys two different electromagnetic waves that stimulate the superficial and deep muscle tissues at the same time to promote active contraction akin to physical exercise.
UltraEM Plus delivers up to 40,000 contractions per session compared to the traditional electrical muscle stimulation protocol of 20,000 contractions per session, which is proven by medical professionals worldwide to provide noticeable changes in a shorter time frame.

UltraEM Plus is known to be the most effective non-invasive treatment for the body contouring market, perfect for those who are pain-adverse and those who are looking for an alternative to surgical procedures.
UltraEM Plus takes an offence and defence approach to the body contouring protocol for lasting and faster results by mobilising and dissolving unwanted body fat cells that overstayed their welcome.
Enquire Now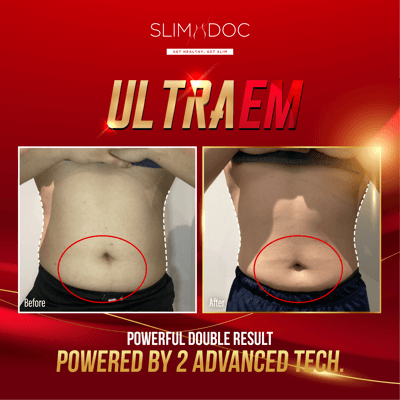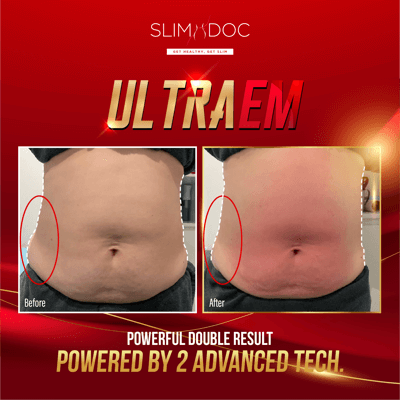 *Our results vary for different individuals based on number of treatments which are painless, no perspiration and needle-free.
Frequently Asked Questions